Brittney Jones first became known to the public for being a home-wrecking mistress and breaking up one of Hollywood's most famous couples – Ashton Kutcher and Demi Moore.
Jones released details of the hot affair she had with Kutcher to the media, which led to the demise of his marriage. When the shit hit the fan, Jones said she was shocked when she received "bad publicity" for being "honest" with the tabloids.
So, naturally, she decided to vindicate herself to the world.
She made a sex tape.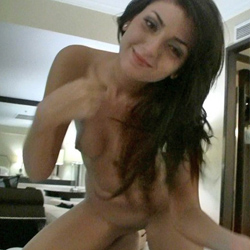 From that point on, dear Brittney went from the bottom of celebrity stardom as a "D-lister" to a "C-lister". All that humping and grinding on camera certainly paid off.
The widely known adult company, Vivid Entertainment cut a deal with Jones to shoot and sell her dirty adult porno online (Vivid sold Kim Kardashian's tape with Ray J that catapulted her to the star she is today).
The tape is supposedly filmed with one of her ex lovers.
See The Clip Here

:
Details About The Affair With Kutcher

: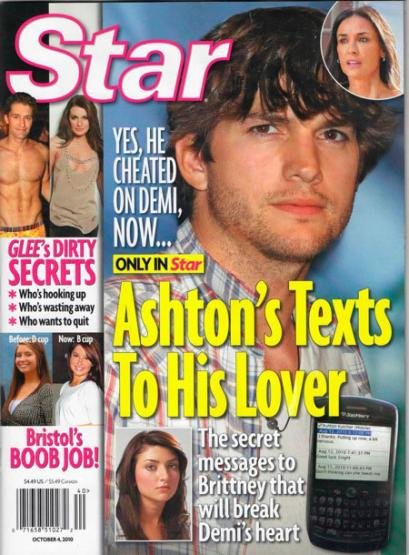 According to a Huffington Post article, one of the most controversial tabloids Star magazine accused Kutcher of having an affair with the young brunette after meeting her at Hollywood's Lucky Strike while she was bowling with Demi and Rumer. Brittney claims that she slipped him her number on a napkin and he began texting her.
"R U busy?" was the first text Ashton sent her.
She then claims that they made plans to have sex. He invited her over to his Beverly Hills home where she alleges they had sex on the couch.
Brittney also said that "He's a great lover, very considerate and sweet. And it was very special to me. I felt totally comfortable in his arms. It as tender and nice – not some random sex act."
Ashton Kutcher took to twitter to defend himself on all the cheating drama. He said "I think Star magazine calling me a "cheater" qualifies as defamation of character. I hope my lawyer agrees…"
Photos Of The Mistress Brittney Jones

:
Update On Jones, Kutcher and Moore

:

No one really knows or cares where Brittney Jones is doing. She hasn't been included in any tabloids for years and years.

Ashton Kutcher married Mila Kunis, his That '70s Show co-star who he played lovers with in the Fox sitcom that started in 1998 and ran until 2006. The couple started dating in 2012 and had a secret wedding on July 4, 2015. They have a daughter Wyatt Isabelle.

Demi Moore is co-starring in a movie with the lovely Scarlett Johansson in Rock That Body. It has been rumored that she is dating Kiefer Sutherland, but he just came out in an interview and claimed that it wasn't true – they are "just friends". Demi is still on the market for 2016!
Related Leaks