Kylie has been under fire lately with the media and tabloids claiming that the 18 year old socialite is pregnant! These rumors have been spreading around and she has had enough! The false accusations have been detrimental to the baby Jenner. According to insiders, she is constantly being bombarded with questions about whether or not she's pregnant. The couple will always come out and say "no" but for some reason these lies will just keep spreading.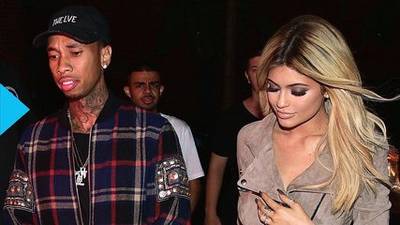 The star and her lover Tyga just want these rumors to stops ASAP! According to other sources, Kylie is dealing with so much right now and can't handle the media drama. She also can't stand the fact that people are saying she looks prego when she clearly is not. Plus, she also doesn't need this on top of the drama with Tyga's baby mama, Blac Chyna. Those feuds are clearly making things go over the top with tension for the couple.
Tyga is about to go on a tour and we hope that all these recent rumors won't cause him to cheat on her while he's doing his rapping thing. You know there are women everywhere who love Tyga and he's definitely got those groupies after him. Kylie isn't dumb either, she knows how these rappers are when they go on tour with all their boys – it's a bachelor party every night! We hope they patch things up before he set sails. Good luck, Kyga! Don't let this emotional distress break you guys up.
Related Leaks